*This post may have affiliate links, which means I may receive commissions if you choose to purchase through links I provide (at no extra cost to you). As an Amazon Associate I earn from qualifying purchases. Please read my disclaimer for additional details..
A pickup truck is one of the most versatile and reliable vehicles you can ever own. Apart from hauling cargo, you can use your truck as a family vehicle, to transport groceries, or carry equipment.
Protecting your cargo in your truck is a top priority, and the perfect truck bed cover is the best way to safeguard your cargo. But let's be honest, with most covers having various features, materials, and latching methods, it can be challenging to pick the right one.
Our comprehensive buyer's guide covers some of the factors you need to consider while shopping for truck bed covers. We also list some of the top truck bed covers in 2022.
Top 10 Best Truck Bed Covers for Snow
Getting a truck bed cover for winter can be challenging as some tend to freeze to the tailgate, making it challenging to open the tailgate. You may have to break or melt the ice to access your truck bed.
Fortunately, after extensive research, we've discovered some of the highly-rated tonneau covers that can withstand winter.
Here are the best truck bed covers for winter.
1. Truxedo TruXport Roll-up Truck Bed Cover
TruXedo is a popular brand known for its quality line of soft roll-up truck bed covers, and the TruXsport is no different.
The Truxedo TruXport is an excellent choice for any truck driver looking for a cover that can survive in extremely cold or hot weather. It's made from a vinyl material that is not only durable but is designed to withstand extreme weather conditions.
Another impressive aspect is the ease of installation.
Most TruXport users without experience take 30 minutes to install the truck bed cover. You don't need to drill or an extra hand to fit the cover.
All you need to do is to clamp the rails in the truck bed, attach the cover, and roll it out to cover the truck bed.
Truxedo also adds a 5-year warranty to the roll-up bed cover.
Overall, the Truxedo TruXport Roll-Up truck bed cover is a worthwhile investment for anyone looking for a durable, strong, and versatile cover.
Features
Leather-grain vinyl top
Aluminum construction
Simple latch and roll
Easy tension control system
Full bed access
No-drill clamp install
Made in the USA
5-year warranty
Pros
Durable and versatile cover
Provides complete access to your truck bed
Fitted with industrial-strength hook and loop lines to seal and prevent water intrusion
Simple to install
Comes with a paddle-latch system for easy opening and closing of the cover
Cons
It requires correct positioning across the velcro pads and side rails
Being a softcover makes it risky to carry heavy rolling objects
2. BakFlip F1 Hard Fold Tonneau Cover
If you are a truck owner looking for a solid, impact-resistant, all-season tonneau cover, you should check out the Bakflip F1 Hard Folding truck bed cover.
The cover works on domestic and imported truck brands like Toyota, Dodge, Ford, Nissan, Chevy, and GMC, to name a few. Its aluminum underside and fiberglass-reinforced top make the cover sturdy yet lightweight.
The manufacturer adds rails that have an 8-inch support surface. That allows the cover to keep your cargo dry even during the harsh winter season.
Furthermore, the flush hinge design prevents ice or water from settling on top of the cover.
Unlike other hard truck-bed covers, the Bakflip F1 folds perfectly past the 90-degree point. This feature reduces wind drag and makes the third brake light fully visible at high speeds.
What's more, the cover's surface is corrosion resistant and UV-protected.
No drilling is required to install the truck bed cover. All you'll need are a socket and wrench.
Features
Fiberglass reinforced plastic on the outer panel
Aluminum folding and frame material
100% waterproof
Holds up to 500 pounds of evenly distributed cargo
5-year limited warranty
Pros
Comes with advanced impact-resistance construction
Scratch and dent resistant
Has a low-profile yet stylish appearance
Corrosion- and rust-resistant
Simple to install and sturdy
Cons
It may be expensive for those on a budget
3. Tyger Auto T3 Tri-Fold Truck Tonneau Cover
The Tyger Auto T3 Tri-Fold truck bed cover is one of the few tonneau covers manufactured with aircraft-grade aluminum frames and marine-grade vinyl. Its stainless steel clamps add to the durability and easy installation.
As a regular truck driver, you don't have to worry about accessing your truck bed. The cover comes with preassembled horizontal crossbars that provide support and allow full bed access.
What's more, you don't have to struggle to mount the truck bed cover as it comes with mounting hardware.
If your truck has an over-the-bedrail bed liner, you'll only need to cut small holes in the bed liner to secure the clamps.
You also get a limited lifetime warranty on the tonneau cover, and you can return it if it's incompatible with your truck.
Features
Heavy-duty aluminum frame and marine-grade vinyl
Full bed access
US design patented
No-drilling installation
Limited Lifetime warranty
Pros
Simple to install and fits on different truck beds with minimal overhang
Affordable
Durable
Quality construction
Cons
Some users found that the cover stretches over time
4. Tonno Pro Hard Fold, Hard Folding Truck Bed Cover
Featuring an all-aluminum underbody frame covered with high-grade vinyl on top, the Tonno Pro Hard Fold truck bed cover is another excellent tonneau cover you should consider.
Apart from being simple to install, the bed cover is durable and guarantees maximum security for your cargo. The cover is engineered with a patented design that allows it to survive in the most demanding environments.
The integrated EZ lock handles allow you to open the hard fold easily and fold it over towards the cab. You can use the nylon cab strap to hold the cover partially open when hauling large cargo.
No drilling is required to install the cover as it comes already assembled. You'll have the truck bed installed in less than ten minutes.
Features
Heavy-duty all-aluminum subpanels
Dent- and scuff-resistant hard-fold design
EZ clamping system for securing the cover
Equally distributed weight rating of 350 pounds
Leakproof design
Lifetime warranty
Pros
Tough and durable all-aluminum construction
Comes with EZ lock handles to open the hard fold
The cover is simple to install
Weather and impact resistant
Cons
Some users' inside clamps jammed
5. Gator EFX Hard Tri-Fold Truck Bed Cover
Gator is popular for its reliable truck covers, and the EFX Hard Tri-Fold Truck Bed Cover is no different.
Apart from its elegant and sturdy design, the hard tri-fold cover provides ample security. Whether it's heavy rain, snow, or extreme sunlight, the EFX cover is designed to ensure your cargo is safe.
The cover's black powder-coated finish and heavy aluminum panels help to increase the truck's stability and mobility.
Installing the truck cover takes about 30 minutes, thanks to the clamp-on rail system.
You're guaranteed impressive functionality and longevity with this truck bed cover. Furthermore, its foldable design adds to the convenience.
Additionally, the manufacturer offers a 3-year warranty.
Features
Durable and low-profile design
Premium-grade vinyl
Lightweight aluminum frame
Tailgate seal for weather protection
Foldable operating system
Pros
Comes with an inbuilt latching system with enhanced security
Aesthetically pleasing
Has an integrated water management system that keeps dust, snow, and dirt out
Durable aluminum construction
Easy installation
Affordable
Cons
Not scratch-resistant
Some users felt that the clamps could have been of better quality
6. UnderCover Elite LX One-Piece Truck Bed Tonneau Cover
Finding a genuine truck bed cover that is durable, provides ultimate security, and has unmatched weatherproofing capabilities doesn't come easy. However, with the Undercover Elite LX painted tonneau cover, you get all these characteristics and more.
The USA-made truck bed cover is painted to match your truck's exact OEM paint code for a customized look.
You don't have to worry about snow slipping into your truck bed as the cover comes down over the bed rails and has a full-perimeter seal to keep water out.
Undercover uses ABS composite material for this tonneau cover, which makes it capable of holding hundreds of pounds while still being lightweight.
Furthermore, the premium carpet headliner leaves a clean, finished look on the underside of the cover.
Previous users loved the integrated handle that allows you to open and close the cover without any problem.
The manufacturer gives a lifetime guarantee on paint and structure and also backs this with a 3-year warranty.
Features
ABS composite construction
Carpet headliner
Integrated handle
Factory painted
Removable LED light
No-drill installation
Made in the USA
Pros
Durable and quality construction
Excellent weatherproofing capabilities
Simple to install
Painted for a customized look
Cons
Reduced cargo size
Expensive
7. Roll-N-Lock Retractable Truck Bed Cover
Ranked as one of the best retractable covers, the Roll-N-Lock retractable truck bed cover is designed to fit common trucks like the GMC/Chevy Silverado and Sierra, among others.
Its classic style gives the cover a unique look, while the aluminum undercarriage has a contoured hinge design for theft protection and frictionless rotation.
Truck drivers can enjoy hard-cover security and excellent weather resistance as the manufacturer combines heavy-duty vinyl with rustproof aluminum.
You'll also enjoy opening the retractable cover. All you need to do is to twist the rear-mounted latch. The cover retracts into the canister in no time.
Moreover, the canister design is only 9-inches deep, which gives you more room for your tools and other accessories.
Another fantastic feature is the locking latch you use to open and close the cover. The cover's patented rear extrusion ensures the tailgate doesn't open, even when unlocked.
The USA-made truck bed cover comes with a 3-year warranty.
Features
Heavy-duty torsion drive with an aluminum reel
Compact canister design
Powder-coated aluminum body
Easy to open and custom design
Ratchet-style locking mechanism
Limited 3-year warranty
Pros
Durable, all-aluminum construction
Excellent impact and weather resistance
Comes with a compact canister for extra truck bed space
Cons
Some users found the installation a challenge
Expensive compared to non-powered truck bed covers
8. BAK Revolver X2 Truck Bed Cover
The BAK Revolver X2 truck bed cover boasts a unique design that works like a roll-up tonneau cover without using snaps or velcro. That makes the cover fits easily on the truck bed.
The automatic slam latches are simple to use and help lock the cover to the rear mounting rails on each side of the truck bed. Once you pull the release cable from any side, the cover will unlatch and be ready to roll up.
You don't have to remove the Revolver X2 cover to access the truck bed. Roll the cover up to the cab and enjoy full-bed access without blocking the rearview mirror.
Truck drivers often worry about snow and water seeping into the truck bed. With the BAK Revolver X2 tonneau cover, you can relax as its surface is covered in vinyl to make it water-resistant.
Furthermore, you don't need drill clamps or any other special tool to install the cover. Simply line the rails up and tighten down the clamps.
Features
Aluminum slats with vinyl overlay construction
Patented rotational locking rails
Automatic slam latch
No-drill installation
Made in the USA
3-year warranty
Pros
Has a weather-resistant design
Simple to install
Tough aluminum and vinyl construction
Allows full bed access thanks to the roll-up design
Cons
Some users felt that the finish was sloppy
9. Retrx Retrax Pro MX Tonneau Cover
Featuring a unique, classic look and heavy-duty aluminum construction, the RetraxPro MX Tonneau Cover is one of the best truck bed covers for snow. The manufacturer adds a UV-resistant matte-black powder coat to protect against fading.
You can haul any cargo thanks to the key-lock or latch that provides fantastic security and flexibility. Furthermore, you can conveniently lift the cover with one hand due to the attached bearings.
The clamp-on installation means that you can fix the cover in under an hour.
Buyers get a lifetime warranty on this US-made truck bed cover.
Features
Heavy-duty aluminum construction
Textured black powder-coat finish
Clamp-on installation
Sealed-for-life bearings
Made in the USA
Lifetime warranty
Pros
Has a stylish yet durable finish
Scratch and rust-resistant
Simple clamp-on installation design
Backed with a lifetime warranty
Cons
Expensive
Some users found that it's not entirely water sealed
10. MaxMate Tri-Fold Truck Bed Cover
If you're looking for an affordable soft truck bed cover that comes preassembled, you should check out the MaxMate Tri-Fold Truck Bed Cover.
The cover has stainless steel security clamps and rust-preventive powder-coated frames for added durability. With the installation, you don't need any special tools as it comes preassembled and with instructions on how to attach it.
The manufacturer also adds inbuilt horizontal crossbars for extra reinforcement that guarantees support when the cover is flat. Buyers also get a 10-year warranty.
On the downside, the cover may get wavy in a strong wind.
Features
Preassembled horizontal crossbars
Aircraft-grade aluminum and vinyl frames
US design patented
10-year warranty
Pros
Durable and sturdy marine-grade vinyl construction
No drilling required
Offers full bed access with the horizontal crossbars
Cons
Some users thought it wasn't a good fit and that it was wavy in strong wind.
Truck Bed Covers: Ultimate Buyer's Guide
A truck bed cover or a tonneau cover is one of the best investments you could ever make for your truck. These covers are meant to protect the open part of your truck from extreme weather conditions.
Here is a breakdown of what to have in mind while shopping and other reasons you should consider installing a truck bed cover on your pickup truck.
Why Should You Install a Truck Bed Cover on Your Pickup Truck?
Investing in a truck bed cover comes with significant benefits.
A tonneau cover protects your cargo from external elements like snow, rain, dust, and UV rays. Moreover, the tight seal of these covers also protects the cargo against theft by ensuring less visibility and access inside the truck bed.
Apart from protection, a truck bed cover gives your truck a unique appearance. Black aluminum panels or a vinyl covering complement your pickup's exterior finish.
Truck bed covers reduce wind drag by up to 10%, further improving fuel economy. You can enjoy a more aerodynamic truck while out driving.
Factors to Consider When Shopping for a Truck Bed Cover
Here are tips to help you pick the right cover and ensure you avoid some common hang-ups and pitfalls.
Get the Dimensions
It's essential to measure your truck bed before getting a cover. You don't want to spend a lot on a tonneau cover only to discover that it doesn't fit properly.
Start by measuring the inside of the bulkhead to the inside bed tailgate.
The right-sized cover should fit within 2 inches of the dimensions from the supplier list. Look at the available sizes to confirm that one matches your measurements.
Note that the sizes may vary in width or length. Some measurements can also vary by a few inches based on the parts included or excluded, like the tailgate or bulkhead.
After getting your truck-box size and measurements, find a tonneau cover that fits your truck's model, make, year, and box size.
Once you have the dimensions, you can decide on the cover style.
Understand the Different Types of Covers Available
There are various types of covers depending on your preferences. Some of the common types include:
Retractable covers don't fold or roll. They open and close into a dedicated enclosure, which allows you to determine the amount of bed access you need. These covers are costly but guarantee enough protection against theft and foul weather.
On the downside, a retractable cover reduces your truck bed's functionality compared to other types of covers.
Hard rolling covers roll up to allow near-full access to the truck box. Users enjoy the convenience of having near-full access to the bed when rolled up.
Hard rolling covers are more durable with full bed access than other covers. These covers are strong, heavy, and an excellent option for a truck owner looking for something aesthetic.
Soft rolling covers are simpler to install, lightweight, and affordable. These covers are ideal for anyone looking for a truck bed cover within a budget.
Determine Your Intended Use and How Much Access You Need to Truck Bed
You also need to determine why you're getting a truck bed cover.
Are you planning on leaving valuable tools in the truck bed, would you prefer to remove and put back the cover easily, and what are you planning to store in the truck box?
Do you also require some access or full access to your truck bed at all times? Answering these questions will help you choose the right tonneau cover for your truck.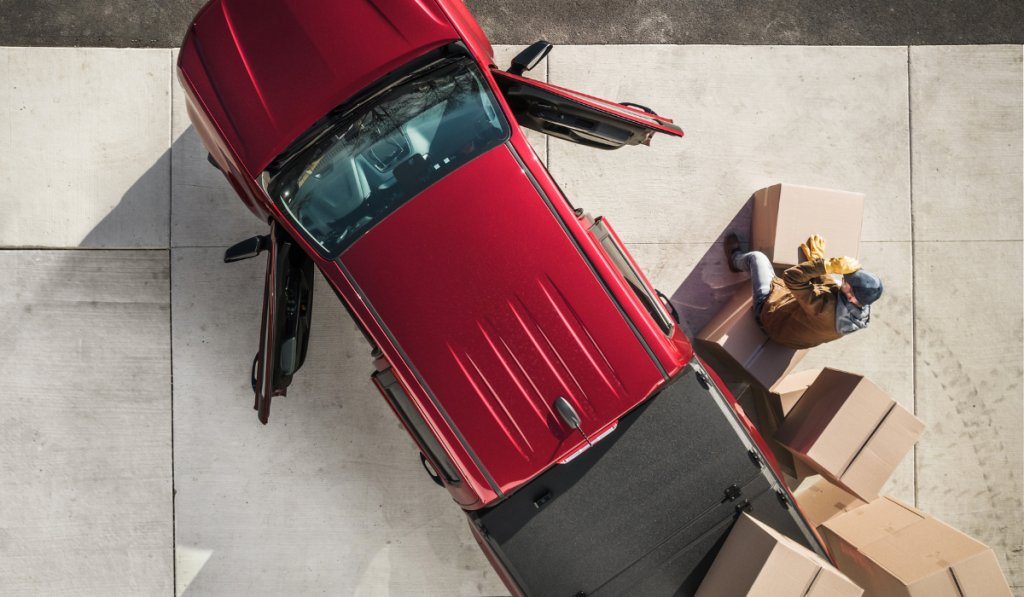 Compare the Different Cover Materials
Truck bed covers are made from different materials, with the popular options being aluminum, vinyl, fiberglass, canvas, and molded plastic.
Aluminum covers are rugged but lightweight. These covers protect your truck bed without weighing down on your truck.
Vinyl covers provide fantastic weather protection to keep your items dry. They are also soft and more versatile.
Fiberglass tonneau covers are aesthetically appealing, sturdy, and resilient against intruders and weather. The rigid material is durable but also comes at a high cost.
ABS or molded plastic covers are lightweight but also provide excellent weather resistance.
For truck owners looking for a cover that is available in any configuration, is easy to move around, and wards off intruders, molded plastic covers would be a great option.
Consider the Ease of Use
You'll realize that certain covers are challenging to install. Hard truck bed covers are enormous and heavy and may need at least two people to fit onto the truck bed.
Roll-up or retractable covers are easier to install as they are compact and light. These covers won't require extra assistance.
Compatibility With Other Accessories
While shopping, you may discover that some covers don't fit alongside other truck bed accessories. That's why you need to find a truck bed cover that also accommodates other things like an inbuilt toolbox or roof racks.
Find Out if the Cover Requires Maintenance
While most tonneau covers don't require maintenance, a few types, like the retractable cover, may require some maintenance.
Some retractable cover rails require lubrication to help with movement. Others, like the vinyl cover, may need a UV protectant.
Have a Budget in Mind
It's essential to have a budget in mind while shopping.
If you're on a limited budget but still want to get the most value, you can opt for a soft roll-up or tri-fold cover.
Anyone looking for extra security and protection while also enjoying the ease of use would benefit from a hard tri-fold cover.
Some individuals are willing to spend on a durable cover that provides near full-bed access and excellent security. A backflip hard folding cover would be an excellent choice in this case.
Check if the manufacturer also provides a warranty for their covers.
Final Thoughts
There are different types of truck bed covers depending on your truck bed's dimensions, budget, and use. Our detailed buyer's guide gives you some pointers to consider when comparing the available options. You can also pick one from our top-ten list of tonneau covers.
Resources