*This post may have affiliate links, which means I may receive commissions if you choose to purchase through links I provide (at no extra cost to you). As an Amazon Associate I earn from qualifying purchases. Please read my disclaimer for additional details..
The average long haul trucker will spend three hundred days on the road, annually. Spending more than eighty percent of their year on the road, it is only natural for people to wonder exactly what amenities come equipped in the interior of their deceptively spacious cabin.
So after spending up to eleven hours on the road a day, do they get their own bathroom in the truck?
Generally speaking, it is pretty rare for a semi to come equipped with a bathroom.
This does not mean that some don't come equipped with a personal toilet, though they are the exception, not the majority. This includes a shower and a sink, which are also not provided in the average big rig.
By the end of this page, you will be well aware of exactly what a semi has, why they don't come equipped with a toilet, and how exactly truckers clean and care for themselves on the road!
How To Use The Bathroom While Trucking
Why Don't Semi-Trucks Come With a Bathroom?
To put it as simply as one can, it is far too expensive for most companies to equip all their drivers with the pricier trucks that do provide a bathroom.
This is only intensified for drivers looking to purchase a semi of their own to become independent contractors.
When a business or individual is looking to purchase a truck, one of the last things on the checklist is a bathroom when they have a much greater need for performance requirements.
What Do They Do Instead?
As you might guess they tend to favor rest stops with easier truck parking or a truck stop gas station like Flying J Speedway, or Loves. While a personal vehicle has the luxury of stopping at any commercial building with a restroom, this is not the case for most commercial drivers.
Parking a truck can range from very difficult to impossible and it isn't unheard of for drivers to damage their vehicles making the poor decision of pulling in somewhere they don't have the clearance or space to drive into.
Several truck stops and rest stops across the continental United States come equipped with a one-person shower and bathroom that is typically a lot cleaner and more private than you may expect. This gives long-haul drivers who are on the road for weeks at a time a chance to wash the long hours of the day off without having to resort to using a public sink or wet wipes.
Some truckers who hold a personal distaste toward public restrooms have been known to bring a portable toilet with them along the road, though this is more uncommon.
How to Get a Semi with a Bathroom
If you are dead-set on having your own personal bathroom inside of a semi, the cost can range upwards of two-hundred thousand all the way up to half a million dollars.
Typically this will have to be a custom-built semi in which you discuss the details with a dealer and they will conjure up a price, although you may find luck in a used 18-wheeler.
This process can take as little as a month and a half or as long as three, depending on the work needed for the sleeper.
This process can begin to feel like you are designing a house because you are actually doing just that. Some sleepers come equipped with a fully operational kitchen and bathroom with a shower included.
After you choose the flooring, which walls you would like, what brand of cushions, the type of metal for the sink, etc, you can send it off to be made after working out a price with the manufacturer.
You can also look online for used sleeper cabs that offer these lofty amenities. You may even find brand new vehicles. Just be prepared to spend more money than most folks see in five years. Though if you can't put a price on comfort, you may as well price it high.
What Amenities Come with a Semi?
As the decades have passed and companies placed more thought into the long-term health and comfort of their drivers, the personal cabin has evolved into a far more comfortable living space.
While a previous generation of big rig transporters had to suffice with a modest bed, an armrest, and a cupholder or two, this is no longer the case in 2022.
Microwaves
Anyone who has spent a few minutes in a travel center knows the importance of a microwave when it comes to food options. Whether it's a wrapped up gas-station burger or a frozen TV dinner, due to the limited options many drivers possess in terms of diet a microwave expands their range of food quite a bit.
While this isn't a universal inclusion found in every semi, it is becoming more and more popular with trucking companies to create a more livable environment for their employees.
Refrigerators
In the interest of keeping truckers from eating their body weight in Vienna sausages and canned tuna, most semi manufacturers from Volvo to Kenworth are now including fridges in their trucks.
A typical semi fridge will hold about seven days' worth of food and is either behind a cabinet or inside of a drawer, similar to a mini-fridge.
This also gives the trucker the benefit of having fresh food in their vehicle while often being miles away from any grocery store.
Work Station or Table
An increasingly common benefit to the living quarters of an 18-wheeler is a workstation that allows the driver to use their laptop, tablet or any device or hobby that requires a hard surface. This can also double as a table so the individual doesn't have to eat from their lap and can have somewhere to safely and comfortably place their food.
Some workstations are even bordered by two compact sofas or long seats to accommodate guest passengers.
Electrical Outlets and USB Chargers
As society increasingly goes digital, so do our demands for places to charge our electrical devices. Almost all trucks nowadays offer an option for the driver to plug-in appliances (a long-time friend use to hook up a mobile stovetop), phones, tablets, laptops, coffee makers, or simple conveniences to keep warm like a space heater.
Some trucks also have specialized ports specifically for USB adapters separate from the electrical outlets to offer more variation for the owner or employee.
Storage Areas or Cabinets
Considering the demanding hours and commitment required for long-distance truckers, it's only natural that they will start to bring more things with them along the road.
Given the understandable stress of being away from home for so long, drivers will bring changes of clothes, books, magazines, or even just daily toiletries like a toothbrush and deodorant.
Closets
In the same vein as cabinets, some trucks offer the driver a place to keep their clothes safe, tidy, and neatly locked away behind a closet with a sliding door or curtain. If you are gonna spend the month going to every colorful corner in the country, you may as well put on a new pair of pants every now and then.
Bed or Cot
One that will come as no surprise to anyone who has had the misfortune of trying to sleep in a car seat, all commercial trucks are outfitted with some type of bed for the driver. The majority measure 80 inches lengthwise and 40 inches across and come in a surprising amount of different styles.
It's a weird thought to imagine, but some mattresses even come in memory foam, though I'd say after two weeks on the road it's well earned.
Other Accessories
Things not already listed will include, cupholders, reading lights, TV mounts, CB radio mounts, windows (with curtains) as well as overhead storage. Some luckier drivers are even offered the benefit of satellite television, though this is certainly not universal across the industry.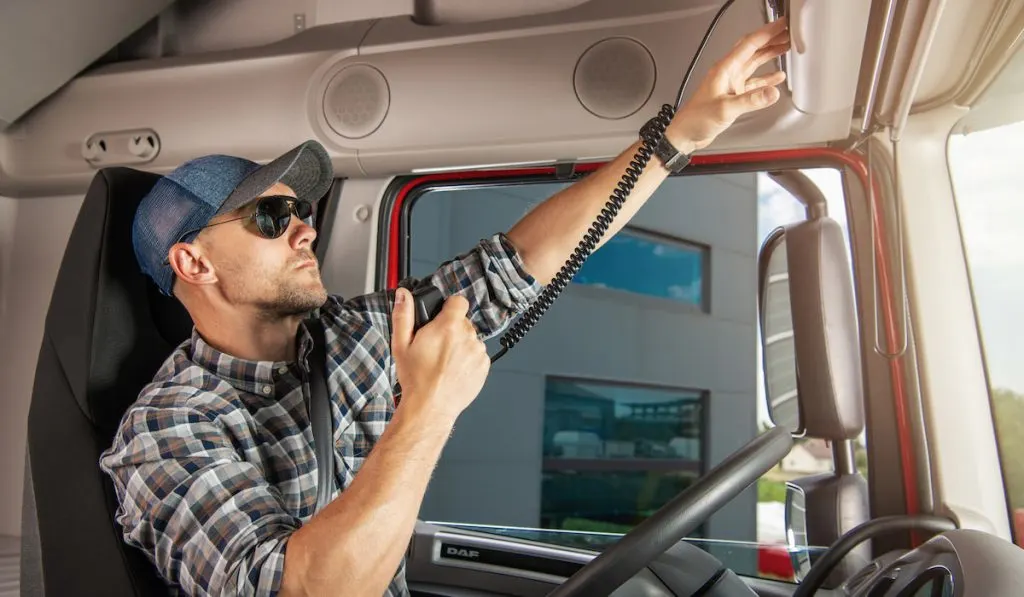 As trucking continues to grow (it accounts for over 70% of all transported goods), the comfort and personal satisfaction of the driver will only improve, as is evident from the last few decades.
The personal comfort of haulers has evolved quite a bit from the days of only having a place to put your drink and a pillow to lay your head.
Final Stop
So while you may not be able to relieve yourself by pulling to the side of the road and using your own personal restroom, you can still live in relative comfort in your semi-truck. There is a massive shortage of truck drivers in the United States, to the tune of about 80,000 according to the American Trucking Association.
If you had reservations about the profession prior to this article (or an empathetic need to know our truckers are being looked after) then you can rest easy knowing that the majority rest their heads on memory foam cushions.
Finally, the next time you are in a line for the bathroom maybe let the guy in the Peterbilt hat cut you, he has probably been holding it for about two states.
Resources: